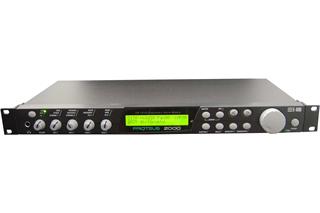 This synth spawned a family of brightly coloured siblings with more or less identical hardware, but targeted at a specific genre of music with a unique sample ROM.
128-voice polyphony
32 midi channels
6 analogue outputs, 1 digital output
"Composer" ROM
User Manual: Proteus2KOp-E.pdf
Proteus 2000 Family SysEx Specification: Proteus Family SysEx 2.2.pdf
OS Updates
Edit
Proteus 2000 family OS 2.26: p2k226.zip
E-Loader 1.1: E-Loader_1.1_Install.zip
E-Loader manual: E-LoaderOperationManual.pdf
Software Utilities
Edit
Ad blocker interference detected!
Wikia is a free-to-use site that makes money from advertising. We have a modified experience for viewers using ad blockers

Wikia is not accessible if you've made further modifications. Remove the custom ad blocker rule(s) and the page will load as expected.